Getting Around
Suva City is a lively city with moderate but advancing development. It isn't very hard to get from one place to the other. Since Suva is a small and extremely busy city, there isn't much parking found at peak hours, which is the afternoon after workday and Saturdays, these are the busiest times for the city, as civilians are out and about doing their usual shopping while the younger generation are out window shopping or hanging out with friends in their cliques.
The easiest form of travelling around the city is walking from one place to the next. Though parking is super cheap, it's best to get a feel of the city by walking through it and admiring each and every store and the historical buildings which these modern stores lease in.
The second most preferable form of travelling inside the city would be a taxi. Catching a cab to your destination is the most convenient for any tourist especially since he is in an unknown place. Cab drivers will take you where you want to go at an exceptionally low price, with standard starting rate at just AUD$0.80!
Taxi Bases in Suva
Professional Taxi's – (679) 7406176
Bure Taxis – (679) 3321574
Matua Taxis – (679) 3385137
Lami Central Taxis – (679) 3361910
Aaravz Limouzine – (679) 9688620
Aaravz Limo Taxis and Rental – (679) 3383668
Nands Taxi – (679) 3381998
Namadi Cabs – (679) 3322616
Nausori Taxis – (679) 3312185
Nab Cabs – (679) 3387500
Saab Cabs – (679) 3387500
Vatuwaqa Taxis – (679) 3385464
Skylight Cabs – (679) 3386877
Senivuga Taxis – (679) 3321220
Samabula Taxis – (679) 3383361
Regent Taxis – (679) 3312100
Laucala Beach Express Taxis – (679) 3395700
Bureta Cabs – (679) 3386312
Carnarvon Taxis – (679) 3315315
Bali's Taxis – (679) 3313158
B K Taxis – (679) 3322324
Avenue Cabs – (679) 3320360
Charlie's Cabs – (679) 3322222
Cina Serau Taxis – (679) 3381099
Laucala Beach Taxis – (679) 3392333
Kundans Corporate Cabs and Limo Services – (679) 3385994
Height Cabs – (679) 3322099
Delana Taxis – (679) 3323299
Madoor Lal's – Taxis (679) 3363785
By Bus
Travelling by bus, whether in the city or between towns is definitely the cheapest from of transport. The catch is, you need to know where you are going as directions and instructions are not readily available.
Moving around in local buses can be testing, but is usually an enjoyable experience. Some buses have what is deemed natural aircon i.e. there are no windows just a vinyl flap that is pulled down if it rains. A novel experience, but at times frustrating, is buses that do not stop at pre-determined bus stops. Rather they stop whenever a passenger wants to get on or off which at times can be every 10 meters if necessary. Appropriately they are called 'stopping buses'. But it's all about "Fiji Time" and if you allow yourself to relax you'll find yourself enjoying a chat with locals and taking time to 'smell the roses'.
Suva's main bus station is located next to the Suva Market. Here you will find buses that travel to all parts of Viti Levu. Some travel to the west, others to all parts of Suva, to destinations just outside the city or even circumnavigating the island.
If travelling to the Western Division (Nadi & environs) a ticket must be purchased from the ticket booths located near the relevant buses. The bus companies are clearly signed such as Pacific Transport, Sunbeam Transport (these are basically the coach buses) and other smaller companies. Buses that travel to Navua, Pacific Harbor ( Taunovo Buses, Maharaj Buses, Pacific Buses Sunbeam Buses ( Normal buses not the express) are also clearly signed.
To board buses that travel around Suva city you should ensure that you have some loose coins for the fare as offering large notes is not encouraged due to a lack of change. Fares range from 70 cents to $1.50. Unlike west bound buses, you pay your fare as soon as you board the bus and receive a ticket confirming your payment. Hold on to the ticket as company ticket inspectors' jump on and off checking that you have paid.
Buses park at dedicated sections at the bus terminal and leave when the bus is filled with passengers. Don't look for a timetable because you won't find one. Bus stations are full of locals who will be only too happy to give you directions.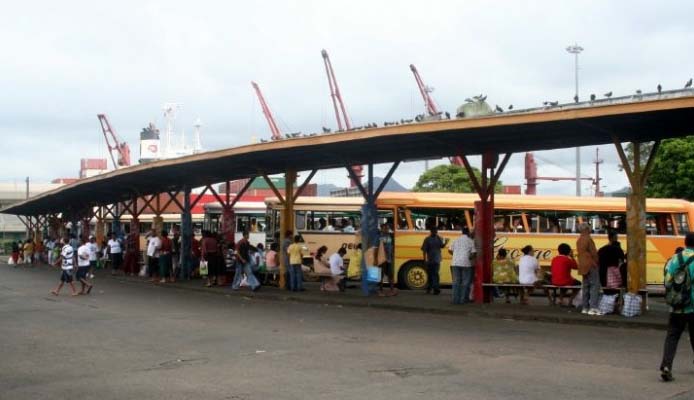 Layout of Suva Bus Station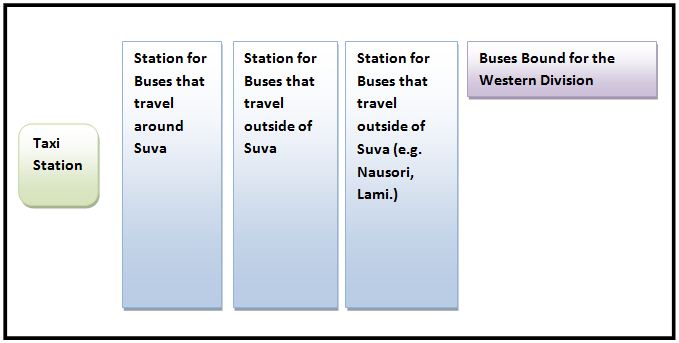 By Car
The third and most common form of transport around the city is by private or hire car. Although it's best to hire a vehicle if travelling from one area to another it is not required in Suva with not only the problem of a lack of parking space but with Suva being compact it is sometimes easier to walk.
Address
498 Ratu Mara Road
Nabua,
Suva.
PH: (679) 3380981
Fax: (679) 3380758
Price Range: $180.00 – $270.00
Address
Head Office
123 Foster Road, Walu Bay
GPO Box 12170, Suva
PH: (679) 3315899
(679) 3315594
Fax: (679) 3302450
Price Range: $115.50 – $280.00
Monday to Friday
7.30AM – 5.30PM
Saturday & Sunday
8.00AM – 1.00PM
Address
Lot 5,
Karsanji Street,
Suva.
PH: (679) 3372050